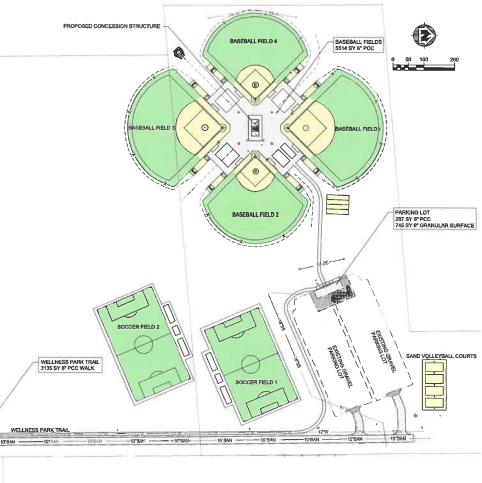 A new engineering firm will finish the current phase of the Wellness Park project. Initially the Washington City Council hired MSA for engineering services for the Wellness Park in March of 2018 and it was amended in February 2019 to raise their total fee to $163,500. However, at their latest meeting the city council voted to move to Garden and Associates.
City Administrator Brent Hinson explains MSA did not appeal the city's decision to terminate the contract, "We had some dissatisfaction that goes back a ways and it's a number of things with the engineering firm we were working with. We didn't feel like we were getting the responsiveness or the expertise that we needed from them. And so ultimately the decision was made to terminate that contract. And then to finish the project we have Garden and Associates out of Oskaloosa that we work with on a lot of our other projects and they're helping us to get that project completed." The remaining work by Garden and Associates will be for a fee not to exceed $18,000. The current phase of the project is creating four baseball/softball fields with dugouts, two full-sized soccer fields, a trail to connect to the Kewash Trail, a concession stand, restrooms, a street to the park, and a parking lot.
Hinson reminds people this is just one phase of the project, "What we're doing right now is really building the template for you know an amazing regional park that's going to get built out over the next however many decades."
Hinson says they are looking to three grant applications to help fund lighting for another ball diamond and a soccer field, which would be the only lit soccer field in town. The cost to do both is estimated at about $350,000. The grant applications are through Major League Baseball, the Department of Natural Resources, and the U.S. Soccer Foundation. Hinson says the $100,000 DNR grant has scored well and should be announced in mid-August.