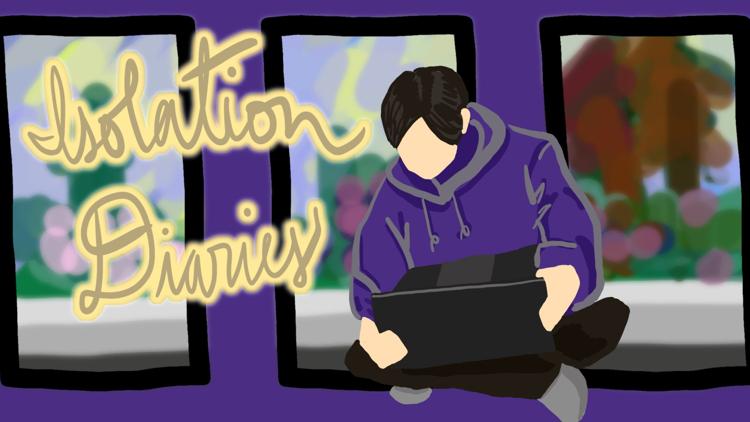 Editor's note: The Isolation Diaries is a Health and Wellness series about living in isolation during the coronavirus pandemic. 
Every day, I wake up at 8:30 a.m. in the room I've slept in since I was three. Even if I have nothing to do that day, this schedule is a carryover from having to take synchronous online classes this spring.
After the fresh hell that was spring quarter of online STEM classes, I thought that I could sleep as late as I wanted. But my head would start pounding if I tried to wake up past 9:30 a.m.
Breakfast usually comes next, though some days I'll skip that in favor of an early lunch. It's usually a fried egg and some kind of breakfast meat, though depending on what the supermarket has available, it might also just be a side of toast.
Living with your parents can be both awfully nostalgic and a terrifying situation.
I was supposed to graduate with my friends this year. But I still have classes I need to complete, so I'm still subjecting myself to online classes. No one tells you that your motivation doing two consecutive quarters of online school will dip lower than it did by senior year of high school. 
My parents will ask what I'm doing. With Canvas constantly bombarding me with assignments due that night, I'll sheepishly smile and say, "School."
Around lunch, which is usually leftovers from dinner the night before, is when the panic starts. That's when I remember that I have deadlines for a scholarship, or a thesis, or whatever else that I need to attend to, but don't really want to.
Normally, this kickstarts procrastination on YouTube for the next couple of hours. Sometimes I will get around to chatting with my friends over text.
My friends and I don't talk about things that we used to. Now it's all about not being able to find a job, or when the pandemic will be over, or whether grad school is worth it, given the circumstances.
After these "motivating" conversations, I'll start working, because I have no other option left. I would continue procrastinating, but refreshing Reddit for the 52nd time seems like a poor idea.
Before I know it, dinner and bedtime come around. Then, I get to do it all again the next day.
Quarantine has made me realize that despite "growing up," I am still very much a kid in high school. Living at home is a weird mix of having adult obligations and the same unrealistic expectations that you had when you were 16. 
Somedays, I wish that I were just sitting in a coffee shop on the Ave, working away on my final paper in relative peace. Instead, my speakers are blaring a YouTube video about Shane Dawson when I'm trying to watch online lectures that are sped up and muted.
Still, this quarantine hasn't been all bad. I get to see my parents and little sister every day. We get to sit down for breakfast and dinner, reminiscing about pre-coronavirus vacations or whatever happy memories come to mind.
We even get to go on walks around the neighborhood, which I haven't really done with my family since college started.
I still remember having long conversations and leisurely strolls around Redmond when I was in high school with family. They were usually on bright summer days, where the wild rabbits would graze on our neighbor's daisies. 
That's the one constant through all of this. The rabbits and wildlife still do what they've always done, despite the world going to hell. 
The walks really do make the days go by a little easier. 
Reach writer Andy Chia at wellness@dailyuw.com. Twitter: @GreatBaconBaron.  
Like what you're reading? Support high-quality student journalism by donating here.