BENGALURU:
Policy-makers
,
medical professionals
and industry experts on Wednesday batted for the holistic approach of
wellness
, saying
healthcare
cannot mean only hospitalisation. Speaking at the online conclave 'Reboot
Karnataka
', they suggested steps to improve the healthcare system, its effectiveness and reach, and also highlighted some emerging trends.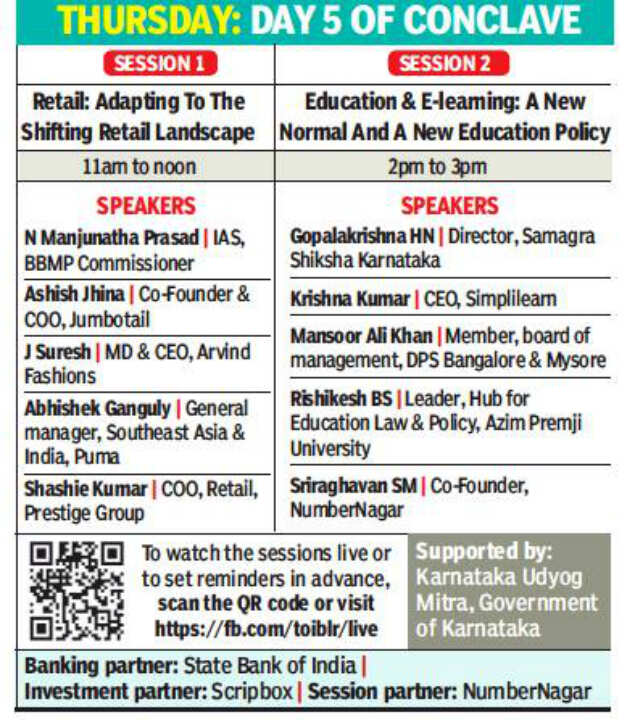 Reboot Karnataka, organised by TOI in association with Karnataka Udyog Mitra, is an effort to understand how the state can get back to robust growth, following the setbacks caused by the coronavirus
pandemic. The subject of Wednesday's session was 'A Renewed Approach To Health & Wellness'. The panellists said the government must increase the spend on healthcare while focusing more on preventing diseases instead of only treating ailments.
"Moving forward, we must look at healthcare as an investment, and not as a cost, and we will reap benefits from that," said Vishal Bali, executive chairman of Asia Healthcare Holdings and senior advisor at TPG Growth. He pointed out that India had historically under-invested in healthcare and we should now look at the system from a wellness and preventive perspective.
At the macro level, he observed, the biggest lesson is that good health is good economics. "About one-third of the global GDP has been contributed by better health outcomes, and I see no reason why it shouldn't be true at a country or state level," he said. Backing a universal health scheme, Dr H Sudharshan Ballal, chairman, Manipal Hospitals, said that while Ayushman Bharat was helping the poor, the issue of the missing middle class needed attention. "They are neither here nor there. They aren't poor enough to come under schemes like Ayushman or well-to-do to avail private care. A mandatory universal health insurance scheme is the absolute need of the hour," he said. Pankaj Kumar Pandey, state health and family welfare commissioner, said that while Covid-19 had drawn attention to the strengths and weaknesses of the healthcare system, it had also taught how collective efforts can be valuable in crises. "We've evolved and many experiments that we tried for the first time have become models for the country," he said, referring to Karnataka's Covid-19 response.
Sam Cherian, founder and MD, Schevaran Labs, said the focus should also be on making workplaces safe to enhance productivity. "People are scared to go back to their workplaces. We must focus on how to make these places safe," he said. Shashank ND, founder and CEO, Practo, spoke about the potential of digital healthcare. "No Indian should go without access to a doctor given that we have digital healthcare and telemedicine to supplement existing facilities. But we should be conscious of the fact that many Indians don't have net access," he said.